Vape Accessories & Dab Cartridges
Dab Cartridges & Wax Vape Pen Accessories
510 thread cartridges have become the standard for electric vaping pens. Sometimes called dab cartridges, oil cartridges, or vape tanks, they are critical components of your vaporizer pen, giving you a great way to enjoy smooth vaping of ejuice, waxes, and oils with minimal effort.
Dab cartridges are one of the easiest ways to smoke concentrates. They offer an unprecedented level of convenience and discretion, which has taken vaping to new highs in the past decade.

For smoother tokes and smokes, many Lookah vapes have bubblers to add water filtration. You can also find replacement consumables, clean brushes, and spare parts for your Lookah vapes.

What Is A 510 Thread Cartridge?
A 510 thread cartridge is a container with a mouthpiece and heating element used with concentrated extracts such as wax or oil.
It fits onto 510 thread batteries allowing you to vaporize the concentrate through the heated coil.
All the Lookah 510 cartridge/coil packs on this page use quartz coils. These coils can be used for wax, concentrates, and other extracted plant products.

What Is A 710 Thread Cartridge?

A 710 cartridge is a larger version of a 510-thread vape cart. While these cartridges are larger, the 710 has nothing to do with thread count or gauge. 710 comes from the reference to dabbing, that's all. These 710 threaded cartridges are just dab carts that use a different larger fitting than the 510 thread carts you may be more used to.

Lookah makes four different 710 cartridges. These are made to fit the Dragon Egg, Q7 Mini, Seahorse X, Swordfish, and Mini Uniocrn vapes. All these cartridges are interchangeable between these Lookah devices.

All of these coils are Quartz and offer a pure taste. The 710 coils for the Lookah devices are as below.

Type A - Best Taste
Type B - Best Vapor Production
Type C - Wax Saving
Type D- See-through sides
All come in packs of 5.

These coils are made specifically for your Lookah vaporizer pen. The quartz chambers are designed to heat up quickly and provide an even heat to your concentrates.
This results in better vaping results. These atomizers are best used with micro dabs, which allow the coil to heat the wax efficiently and avoid burning and wastage of excessive wax.
Where did the term 510 thread come from?

510 is an anachronistic term that was coined in the early days of proprietary vape cartridge technology.
510 means 10 threads at 0.5 mm per thread. The diameter of the thread is 7mm. So if you wanted to make this thread size yourself, you would use an M7x0.5 tap.
Modern 510 vapes do not need to have 10 threads at .5mm each.
Instead, this denotes a standardized industry size that is loosely based on this early tech that came from the e-cig industry.
The 510 thread size is by far the dominant battery connection for pocket-sized vapes.
These cartridges are widely available in the market. However, not all are created equal. Some 510 thread devices will have different depts than others, and some carts will also have different threads, so not all are completely interchangeable with all 510 threaded devices.
Having said that, there is a good level of interchangeability between 510 vapes meaning they offer convenience, portability, and reliability.
510 vape carts can offer various content options such as: cannabis oil, CBD oil, THC oil, hash oil distillate, live resin, CO2 extract, and BHO.
Lookah 510 Wax Carts
There are four options, each with a different color pack for easy identification. Each package comes with 1 tip and 4 coils. These cartridges are specifically for use with the Lookah Snail and Lookah Load 510 cart pen battery devices.

A-model 510 thread carts (Red): 1 x tip+ 4 x Tunnel quartz coils
B-model 510 thread carts (Green):1 x tip + 4 x Column quartz coils
C-model 510 thread carts (Yellow) :1 x tip +4 x Flat quartz coils
D-model 510 thread carts (Blue):1 x tip + 4 x Double quartz rod coils
Or you can choose a mixed pack that includes one of each coil wax cartridge and a single tip.
All the vape carts offer 1.2 Ohms resistance. They each have a slightly different coil design. So you can choose the one that tastes best for your concentrate. The cartridges are available in packs of 4 or as part of vape cart pen starter kits along with the Lookah Snail that has adjustable voltage settings.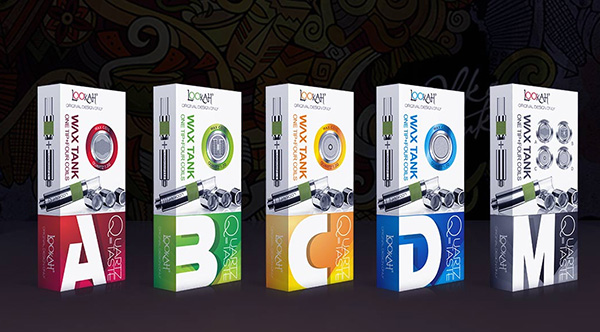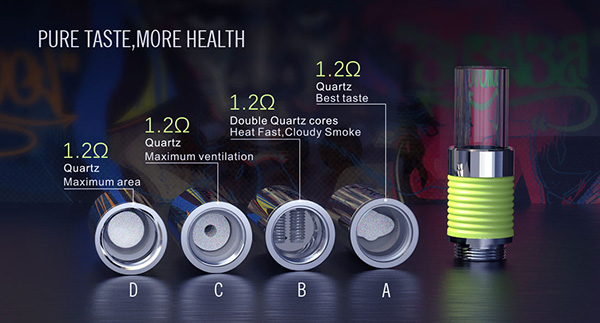 How do 510 Dab Carts Work?
A dab pen cartridge or vape tank connects to the battery component of your vaporizer. The most common size fitting is a 510 thread, hence why these are often called 510 cartridges. Once connected, the battery provides electricity to a dab atomizer/coil in the cartridge. This will heat the wax or oil to the correct temperature to turn it into vapor. This vapor is then inhaled through the mouthpiece.
Advantages of a 510 Cart
There are two main reasons people use vape pens. Firstly, as there is little to no smelly smoke, you can vape inconspicuously. Secondly, vape pens are small and compact, perfectly portable, allowing you to vape almost anywhere.
Thirdly, cartridges (carts for short) often come as a sealed unit. This brings excellent convenience. It's a hassle-free way to vape as you screw it onto your 510 battery, and you're good to go. It really couldn't be any simpler than that.
Using cartridges to vaporize oil can result in a better flavor. When vaping, you can taste terpenes, and the fuller flavor profile is an additional advantage of using cartridges.
Prefilled versus Refillable Cartridges
510 thread cartridge: prefilled cartridges and refillable cartridges.
Refillable vape cartridges offer a cost-effective way to vape your own concentrates, such as e-juice. They fit any 510 thread battery, although it's best to use one which allows you to adjust the temperature.
You can specify the temperature you would like to vaporize in degrees, fully optimizing the experience and setting the best temp for your concentrate.
510 threaded oil carts are available at just about every dispensary and headshop. When buying cannabis products, make sure you get high-quality cannabis oil or THC vape products by going with known brands and double-check labels to verify products have been tested and are not fakes. There have been incidents of fake vaping oil being sold in prefilled cartridges in the past. Make sure you buy from a licensed and accredited source and read the packages which should list any thinning agents such as PG or VG oil.
While effortless, prefilled cartridges will start to add up, costing more than refillable cartridges in the long run. However, prefilled cartridges are hassle-free and a great way to dip a toe into the oil vapes before investing in more specific equipment. If you start with a good 510 battery, you can easily upgrade to refillable cartridges once you're ready.
What to Look for in a Refillable Cartridge?
Cart tanks can vary in capacity, which will affect the actual fill capacity limiting how much oil or concentrates you can load in each fill. Different materials like quartz, ceramic, silica, titanium, nickel, and kenthol affect your vaporized concentrate's flavor profile. The different materials will also influence the peak volts or watts you can power them with. This, in turn, will limit the size of the rip you can get.
Rather than maintaining a set temperature, most vapes will try to regulate the wattage or voltage. This allows a more consistent burn and is easier to control because when the vapes components heat up, the resistance can easily change, significantly affecting the output temperature.